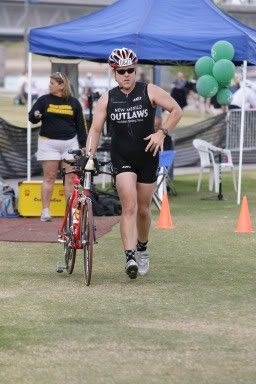 What can I say, 2006 has been one hell of a season! When I look back now at the early part of the year I feel almost like I'm looking back fondly on my childhood. This is my second season of triathlon and despite all the little goals I set for myself I had four major goals:
Finish an Ultramarathon
Finish a half-iron triathlon
Finish a full iron triathlon
Win the Clydesdale Champion award for the Southwest Challenge Series

I am mightily pleased to say that I met each and every one of these goals! This is not to say that I would call the season a complete success. Below you will see five races with an asterisk next to them. I actually ran these races on a hip with a stress fracture in two places. I think the injury took place at the Rio Rancho Duathlon, which is probably the toughest short race you will ever run. I spent a couple weeks with some fluctuating pain and kept hoping it was something that would go away but it just kept getting worse and I kept getting slower. I got to the point where if I tried to stand on my right leg it would just buckle beneath me. The
Buffman & Squeaky Olympic Triathlon
was an exercise in agony but I was able to grimace my way through it to a 3rd place finish in the masters Clyde division.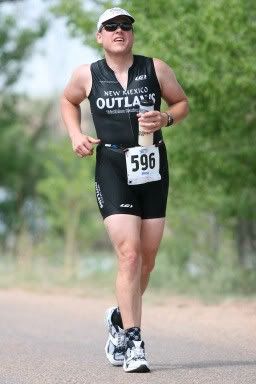 The picture here is me at the Buffman & Squeaky.
I finally got an accurate diagnosis after my family doc referred me to a Sports Medicine Orthopedic Surgeon and I received the proper care and advice and was soon on the mend. I missed out on the Buffalo Springs half-iron but was able to switch my registration to the Aquabike, which I loved!
This has also been my first year blogging and I have enjoyed that quite a bit as well. I've been able to meet some great people from across the country, some I have even been able to meet in person. I think maybe next year one of my goals will be to travel and try and meet as many fellow blogging triathletes as possible.
Before giving you the layout of my 2006 season I just want to note that there is actually quite a bit of variability in the distances of the Sprint triathlons I've done. Living in New Mexico the triathlon community is plagued by a dearth of water so we swim where we can. The swim splits range from 300 yards to 1200 meters, the bike splits range from 10.2 miles to 30K and almost all runs were 5K except the Bottomless, which has a run of 4K. Also, the Southwest Challenge Series season kicks off with the Polar Bear in the December of the preceding year, hence my December race at the beginning of the list.
So here it is:
December: Saturday 10th
Polar Bear Sprint Triathlon
, Las Cruses, NM - 1:23:12
January Sunday 15th
Ghost Town 38.5 Ultramarathon
Hillsboro, NM - 8:41:14
February 11th
John Stermer Memorial (run/bike) Duathlon
, Las Cruses, NM - 1:17:02
February 19th
Lost Dutchman Marathon
, Apache Junction, AZ 4:47:19 (PR)
March 12th Stealth (run/bike) Duathlon, Alamogordo, NM - 1:26:06
April: Sunday 2nd MVTC Sprint Triathlon, Las Cruses, NM - 1:16:56
April: Sunday 9th
Rio Rancho Short Course Duathlon
, Rio Rancho, NM - 1:37:02
*April: Saturday 15th
Wind Run Swim Biathlon
, Las Cruses, NM - 43:04
*April: Saturday 22nd Amarillo Sprint Triathlon, Amarillo, TX - 1:03:51
*April: Sunday 30th
Atomic Man Long Course Duathlon
, Los Alamos, NM - 2:57:48
*May: Sunday 14th Jay Benson Sprint Triathlon, Albuquerque, NM - 1:15:06
*May: Sunday 21st
Buffman & Squeaky Olympic Triathlon
, Lubbock, TX - 3:14:01
June: Sunday 25th
Buffalo Springs Lake half-iron Aquabike
, Lubbock, TX - 3:26:38
July: Saturday 1st Grady Williams Olympic Triathlon, Farmington, NM - 2:56:10
July: Saturday 8th Bottomless Sprint Triathlon, Roswell, NM - 1:02:06
July: Sunday 16th
Mountain Man Sprint Triathlon
, Flagstaff, AZ - 1:17:58
July: Sunday 23rd
Deschutes Dash Sprint Triathlon
, Bend, OR - 1:27:11
July: Sunday 30th
Las Vegas Olympic Triathlon
, Las Vegas, NM - 2:58:00
August: Saturday 5th
Tall City Sprint Triathlon
, Midland, TX - 1:14:16
August: Saturday 12th
Socorro Chili Harvest Sprint Triathlon
, Socorro, NM - 1:13:00
September: Saturday 16th
Cotton Country Sprint Triathlon
, Levelland, TX - 1:09:26
September: Saturday 23rd
RedMan Iron Distance Triathlon
, Oklahoma City, OK - 14:27:15
October: Sunday 1st Stealth Sprint Triathlon, Alamogordo, NM - 1:28:20
October: Sunday 29th
Soma Half-Iron
, Tempe, AZ - 5:55:22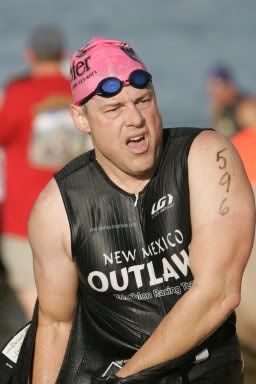 .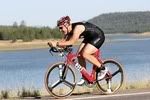 WOW! I can't believe it, that's my 2006 season, the whole enchilada…
So what have I learned?
I'm stronger than I would have imagined…other people are stronger than they imagine…that includes YOU.
Give me enough time and there is probably no feat of endurance that I can not accomplish.
Involve your family in endurance sport if you can do it without hounding them into it, it builds bonds as strong as the people who participate in them.
The people who participate in endurance sports are fantastic!
For me, endurance athletics is primarily a social endeavor. I love all the exercise and I will try my hardest to chase people down every time I'm out on the course but ultimately it's not the time I achieve, it's the time that I have…the journey and not the outcome.
I can hardly wait for my 2007 season!
Fortitude Vincimus my friends! Through endurance we conquer!