Today was the 21st running of the Grady Williams Memorial Death March…er…I mean Triathlon. This event is more difficult that an Olympic distance race has a right to be and so it draws more racers and better quality racers per capita than probably any other race in my region. It takes place in a town called Farmington New Mexico right in the "Four Corners" area where New Mexico, Colorado, Utah and Arizona all meet and subsequently we get racers from each of the four states. It is cool getting that kind of a draw from so many areas as I rarely get to race triathletes from Colorado and Utah, mostly just Texas, New Mexico and Arizona. It is also a little nerve wracking because there are many more unknown competitors who show up and today was no exception.
I've described the course before but briefly, it's an "inside out" triathlon that goes swim – run – bike. You have your usual 1500 meter swim followed by a trail run that is mostly uphill, has lots of twists and turns and a multitude of pockets of deep sand. Sheesh! I had forgotten about the sand…I recalled a couple of sandy divots…I must always dissociate on that run because there were many, many stretches of
Florida beach-like sand holes that would go on for 20 yards at a shot. And then of course you have your 40K bike that has a nice big flat space…in transition that is. The rest of it is constant up or down. Again my recollection of the bike was screwy. I thought it trended upward all the way out to the turn around and then downward on the way back but it was just the opposite. Fortunately though we had a headwind for the uphill trip back and the temp was hitting 98 degrees…Whoo Hoo! Good times were had by all! I guess that's what I get for racing in the high desert.
Anyway, the event started right on time when the gun (person yelling GO) went off at 7:15. I am totally married to starting the swim with a nice easy stroke and sure enough as I was cruising along and sighting I could see the lead pack pulling away like a rocket…fine. By about 300 meters I started swimming over folks who, predictably, were falling off the back. By 800 meters I hit the second wave of dying amphibians and I started to put the hammer down and attempted to bridge up to the lead pack…of course you had your LEADER leaders who were not in any kind of pack but they were not what I was going for…they were most likely already ashore. By the last 100 meters I believe I was at the middle of the lead pack and I just kept stroking away until my hands grabbed sand and I was up and out of the water in 27 minutes.
I got through T1 as quickly as I could but didn't get a time. I was soon off on the run, which begins with just about 3.5 miles of uphill with some ugly peaks and valleys in-between…oh, and don't forget the sand traps…we mustn't forget them. I was wearing my new trail runners so felt like I had better traction and I was running pretty good though I was breathing hard and must have sounded like some deranged bull moose come down from the mountains. I got passed by a few of what the
GEEKGRL
likes to call "Bird People" which doesn't bother me and is always kind of fun when they shoot me a look of bemusement wondering what the heck someone of my size is doing so far along the course and then of course I get the obligatory breathless "good job" and they are on their merry way.
Now as I was running along, maybe in the first mile, I spied me a Clydesdale and what was he up to? He was walking the uphill…bwahahaha! (Sinister grin). This particular Clyde in a young up-and-comer in the division I believe he's 27 but I could be on the low end by a couple years. He started running again but I new I could catch him and I did near the crest of the next hill. He began to walk and I just leaned into the hill and pushed. Mind you, I didn't go screaming by or anything, it probably looked more like a Rascal race but there you have it, I got the job done.
The final couple of miles of the run is a quad punishing downhill sprint. You are flying down the trail all the while jumping roots, dodging loose rocks, negotiating rutted terrain and thinking about what a disturbingly loud snap your ankle would make at such a pace. I rolled into T2 without incident and briefly enjoyed the flat that is transition before heading out on the love rollercoaster, um, bike. At this point I was trying to push but I started to feel
Buffalo Springs 70.3
in my legs and it occurred to me, "Oh, that was last weekend" so I just grimaced and tried to hold on. The bike was pretty uneventful though I did start doing a little math and figured if I were to just bleed a little I might be able to wrap this thing up sub-2:40, which was unexpected because last year I had a pretty good race and finished in 2:56:10.
By the end of the race I was VERY ready to be finished but I also felt very good about my performance. I finished in 2:39:26! Eight seconds short of my Olympic PR…which brings us to a point of contention; the run on this course is .97 mile SHORT. This run is ugly hard as is the bike. I believe that even though the course is short the very nature of the run makes it a rival for any Oly around. Heck, the overall male finished in 2:19…nobody goes sub – 2 at the Grady even with the short run.
In any case, my time was sufficient to land me at the top of the podium in the Clydesdale division, no split between masters and U-39 here, just straight Clydes. The fact that I beat the Colorado Clyde who beat me last year…just icing on the cake my friends…icing on the cake. Next up – the
Bottomless Triathlon
, New Mexico Club State Championships! Wish the
Outlaws
luck!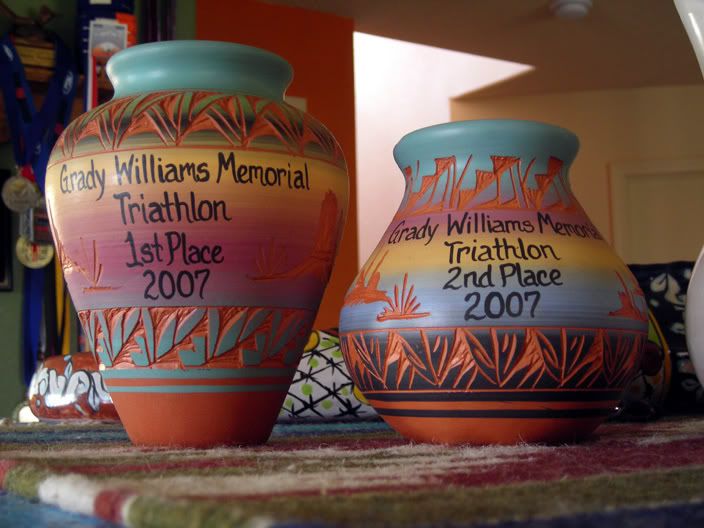 In other news, the
GEEKGRL
took second Athena! Check out the hardware.